Chicken Stew with Ginseng ("Sam Gye Tang" or "Sam Gae Tang")
4 servings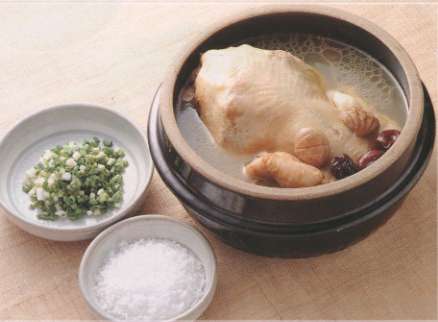 This chicken and ginseng dish is a very popular dish in Korea that traditionallly eaten on the hottest summer days. Sam gye tang, particularly its ginseng proponent, is revered as a medicinal dish that induces sweating, which "detoxifies" you, and ultimately rejuvenates you. This is a dish that shows the recipient a lot of caring–not only can you serve it on a hot summer day, you can serve it to someone who is feeling under the weather. In fact, it originated out of royal and upper class kitchens, before precious ginseng became widely available. This dish is very straightforward and simple to make.
Ingredients:
 1 cornish hen or small chicken is fine
 3-4 roots of ginseng*
 4-5 chestnuts ("bam")*
 6-7 red dates("dae choo")*
 1/3 cup sweet rice*, washed and drained
 8 cloves garlic, peeled
 1/4 inch piece ginger, peeled
 salt
 pepper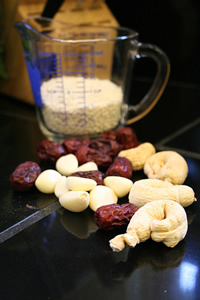 * You can purchase "Sam Gye Tang Package" contains all 4 main ingredients in our ginseng shop.
Step 1: Clean the chicken inside and out.
Step 2: Trim any visible fat as much as possible.
Step 3: Wash rice, ginseng, chestnut and red dates.
Step 4: Stuff inside the chicken with rice and seal.
Step 5: In a heavy pot, add chicken, ginsengs, red dates, chestnuts, garlics and ginger.
Step 6: Pour water to cover the chicken.
Step 7: Bring to a boil and turn down to simmer.
Step 8: Cook about 2-3 hours until the bones fall apart. Skim out the fat on top occasionally.
Serve with salt and pepper.
---
Chocolate Peanut Butter Ginseng Cookies
Preheat oven to 350 degrees Makes 3 - 4 dozen cookies
1 pkg. (18 1/ 4 oz) Devils Food cake mix
2 eggs
1/3 C vegetable oil
1 pkg. (10 oz.) peanut butter chips
1/2 to 1 C chocolate chips
1 tsp. ginseng powder
Combine cake mix, eggs, oil, and ginseng. Batter will be stiff.
Stir in chips.
Roll into 1" balls.
Place onto lightly greased baking sheet. Flatten slightly.
Bake 9-11 minutes.
Cool one minute. Put on wire rack.
---
American Ginseng Banana Muffins
Makes 12 muffins.
3 American Ginseng Tea bags or 1-2 tbsp of American Ginseng Powder
2 soft medium bananas
2 medium eggs
1/2 cup sugar
1/2 tsp cinnamon
1/2 tsp baking soda
1 1/2 cups flour
1 tbsp oil
1/8 tsp salt
Allow contents of 3 tea bags (approximately 1 tbsp) to soak in 3 tbsp hot water for 15 minutes.
Mix bananas, eggs, sugar, oil, and ginseng (and water) until well blended.
Sift together dry ingredients and add to banana mixture and mix well.
Bake at 350° for approximately 15 minutes.
---
Cranberry Ginseng Tea
2 cups water
2 green tea bags
2 ginseng tea bags
1 mint tea bag
2 cups cranberry juice cocktail, chilled
1 cup carbonated water, chilled
Bring water to boiling in saucepan. Remove from heat. Add green, ginseng, and mint tea bags. Cover; let steep for 10 minutes. Remove tea bags; discard.
Cool at room temperature, covered, 2 hours. Transfer to pitcher; add cranberry juice and carbonated water. Serve over ice cubes. If desired, garnish with edible flowers. Chill remaining tea up to 2 days.
Makes 5 (8-ounce) servings.
Nutritional facts per serving: calories: 20, total fat: 0g, cholesterol: 0mg, sodium: 5mg, carbohydrate: 0g, fiber: 0g, protein: 0g, vitamin C: 19%
Courtesy of: www.cooksrecipes.com
---
Ginseng Shreds Stir Rice - for a Special Meal
Yield: 1 servings
9 c Pre steamed rice
2 Ounces finely chopped Ginseng
2 tb Soy sauce
2 tb Vegetable oil
1 ts Salt
3 Onions shredded
3 Sweet peppers shredded
1 lb Celery
Steam and simmer rice.
Use 1 heaping tablespoon vegetable oil and stir rice in a skillet over a big fire for 1 or 2 minutes. Take out the rice. Heat the remaining vegetable oil over a big fire until hot.
Put in finely chopped Ginseng, onions, peppers, celery, and salt and stir for 2 minutes. Let sit, covered, for 7 minutes. Then it's ready.
Almost all Chinese soups and stews are adaptable to Ginseng, with the exception of those having citrus fruits as an ingredient. I've given you a start here, but experiment. Dig up a Chinese cookbook and try out a few recipes.
From "The Ginseng Book", Louise Veninga, Ruka Publications, 1973.
---
Chicken Breasts with Ginseng
Serves 4.
4 whole skinless chicken breasts
2 teaspoons powdered ginseng
Salt and pepper to taste
Place chicken breasts on a baking pan and sprinkle with ginseng, salt and pepper.
Place in a preheated 350 degree oven and cook approximately 30-45 minutes, or until juices run clear.
---
Ginseng and Beef
Fresh ginseng root, thoroughly cleaned and thinly sliced
1/2 pound tenderloin, cut into narrow strips or chunks
3 or 4 small green onions
soy sauce
Sherry or wine
Sugar
Black pepper
Garlic powder
Vegetable oil
Marinate beef with a mixture of soy sauce, sherry and sugar.
Stir-fry meat in oil.
Add ginseng and fry briefly while adding the seasoning of sherry, pepper, garlic powder, sugar and soy sauce to taste.
Add green onions. Cook briefly.

---
Deep Fried Ginseng
Fresh ginseng roots, cleaned and sliced Batter:
1 C flour
1 egg yolk
Dash of salt
3/4 to 1 C water
(Or use your favorite batter mix)
Dipping sauce:
Soy sauce
sherry
vinegar
sugar
Mix egg yolk with cold water.
Add flour and salt.
Mix lightly.
Add ginseng slices to coat.
Deep fry and serve with dipping sauce.